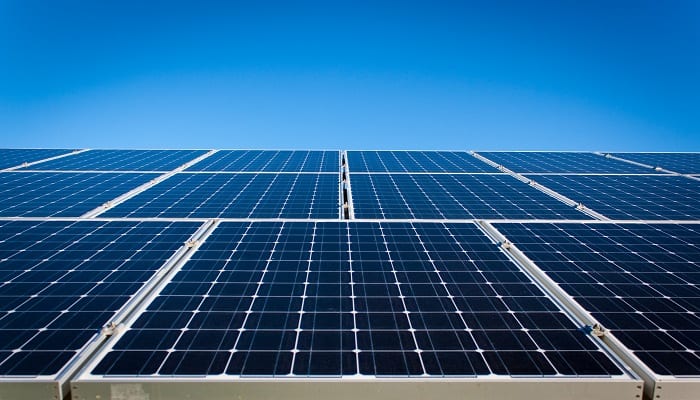 Introduction
With the rising focus on businesses' ecological consequences on our world, solar energy is a wise and progressive solution for Australian businesses. Not only can you save money by taking advantage of our wonderful sunny climate, but you're also fulfilling a promise to your staff and consumers to minimize CO2 emissions.
Gorunsolar wants to assist more Australian businesses in reaping the economic and environmental benefits of solar energy, thus we specialize in the supply and installation of high-quality, low-cost commercial solar systems. We provide full solar panel and inverter solutions for a variety of commercial applications, as well as industry-leading warranties and guarantees on all products.
All of the research has been done for you when you choose Gorunsolar. We have one of Australia's largest solar installation teams and collaborate with several Tier 1 premium solar panels and solar system vendors.
We can analyze your energy output and commercial needs to determine the best option for your company. And, because of government incentives and flexible financing choices, you may begin lowering your electricity expenses faster than ever before.
A Solar Power System can help you future-proof your business from ever-increasing electricity rates and additional expenses such as carbon pricing, network charges, and peak demand.
By choosing solar, you might save your company thousands of dollars every year while also knowing that you made a smart investment. With a solar system's estimated life of 25 years, your company will continue to save money on electricity even after your investment has been repaid. Most times, the payback period for a commercial solar system is 3-4 years.
In some situations, firms can even claim tax breaks for system depreciation. In addition, investing in a solar system will yield a higher rate of return than putting your money in a bank and earning interest.
Contact one of our consultants, and we will study your energy history, site location, and variables before providing you with extensive modeling that advises the best system for your company. The business case will include information on system components, energy production, performance, estimated payback, and ROI, as well as the cost and value of the investment.
Our experts will show you how to keep your cash for other business reasons while still saving money on your electricity bills.
We recognize that deciding to invest in solar may be a complicated process, and we take pride in keeping our customers informed at the step of the way.
We have prepared a detailed guide for your use since you have decided to do the right thing and go solar:
Unlike families, which use more energy before 9 a.m. and after 5 p.m., most businesses function (and so consume the majority of their electricity) between 9 a.m. and 5 p.m. As a result, solar systems are an excellent fit for Australian commercial enterprises.
Here are a few things you should know about commercial solar systems.
#1 There are three distinct size categories for commercial-sized systems.
30kW or less (Up to about 100 panels)
These systems use the same technology and are subject to the same grid connection requirements as residential systems, which means that any installers who execute residential-sized installations can normally undertake business-sized setups up to this level without any 'specialist' commercial solar power expertise.
A 30 kW system will create roughly 120 kWh of electricity per day on average over a year, saving approximately $2000 per month if fully self-consumed (which is possible in commercial situations).
30 to 100kW
Commercial solar panels of this size necessitate special technologies to safeguard the grid from the massive amounts of electricity they may generate, and they require special approval from your local electricity network (DNSP) to connect to the grid. For company systems of this magnitude, it is best to consult with a commercial solar system specialist (and larger), which we shall gladly provide you with.
This size range of commercial solar systems is generally installed on medium-sized office buildings, local clubs, and small retail establishments.
More than 100kW
If you exceed 100 kW, you are no longer eligible for the STC "rebate." But don't be alarmed! You continue to receive a subsidy known as 'LGCs' This is paid annually and is depending on the amount of energy generated by the system. This adds additional complication and bureaucracy to your business because you must install a particular meter and record your generation every year to claim your 'rebate.'
These are commonly seen in hotels, large offices, wineries, and small to medium-sized companies.
More than 250kW
These systems are very huge and would necessitate the services of a qualified technician from our team, who is familiar with the specific technical requirements of such large commercial systems. They are typically installed in major commercial malls or solar farms.
#2 Grid-connection of huge commercial solar power installations
When establishing systems of 30 kW or more capacity in Australia, it is critical to obtain written network clearance for the installation. Every grid-connected solar power system must be certified, which we will make sure of.
Most (if not all) clearances for bigger commercial-sized systems are conditional.
Knowing this is critical since meeting these parameters entails a significant amount of cash and equipment – and export limiting your system may alter its estimated savings, and also because transparency in the process is one of our key policies.
#3 Common solar expenses and payback periods
In Australia, good grade commercial solar power — more than 30kW but less than 100kW – will cost roughly $1,000–$1,300 per kW installed. When compared to a string (or central) inverter system, incorporating micro-inverters or power optimizers will add about 15-20% to the overall cost.
A good 20-30kW business solar system costs around $700 per kW. This is because they require less network protection and the accompanying engineering costs.
#4 Maintenance
Adopting a maintenance schedule is critical. Any installer is required by the CEC to offer a maintenance schedule to the consumer. For bigger commercial systems, our installers will provide a very detailed and tailored timetable to either conduct themselves or arrange from a third party.
Typically, our installer will offer a check every 6 months for the first two years, and they will have their own recommended pressure cleaning firm that they may recommend if/when dirt and other materials begin to impact the system's effectiveness.
Panel cleaning should be done on an as-needed basis, not regularly. Solar panels are normally self-cleaning, although, in heavy pollution/dust locations, manual intervention may be required.
#5 The "commercial solar rebate" – aka STCs versus LGCs in Australia
Commercial solar systems of 99 kW or less are qualified for a financial incentive known as the "STC program." Simply put, you are paid depending on the predicted generation of a system over the next ten years, to the tune of around $500 per kW of solar installed (this also depends on market conditions and installation location).
This–so if your company was quoted a 30 kW system for $30,000, the $15,000 STC 'rebate' would already be applied.
However, once your system exceeds 100 kW, you are no longer able to claim STCs (Small-scale Technology Certificates) and must therefore obtain LGCs (Large-scale Technology Certificates) (Large-scale Generation Certificates).
The major distinction is that, whereas the STC 'rebate' is paid in advance and serves as an upfront reduction on the cost of a system, the LGC 'rebate' must be correctly tracked, documented, and collected each year.
To claim LGCs, you must first register your company with the Clean Energy Regulator as an "accredited power station." Gorunsolar installers will help you with this. We then guarantee that your metering meets National Electricity Market requirements, allowing you to track your output accurately.
#6 Commercial solar designs and layouts – or why commercial solar does not always entail the use of a roof
When it comes to setting up a commercial-sized solar array on a business's roof, weight is one of the most important considerations.
It is critical that a structural engineering certificate is provided and that the site be manually inspected by an expert.
Before installation, Gorunsolar will offer you a full roof plan.
In general, flat-panel arrangements are more prevalent than tilt-frame installations. They are inexpensive (tilt frames are an added cost) and easily adjustable to accommodate last-minute changes.
#7 What to expect from your first installer visit/consultation with us?
Gorunsolar installers will analyze your property's energy profile.
The following are the primary items we will search for:
– The billing structure – what kind of tariff does your company have?
– The unavoidable expenditures. Ancillary fees, AEMO fees, service availability fees, and so forth.
– The amount of energy consumed during daylight hours, particularly in the winter. This will enable us to assess which is more vital – roof space or what you, the consumer, genuinely require. For example, if you require a 100kW system but can only fit 50kW on your roof, an energy profile study will determine whether it is still worthwhile to proceed.
– Arrangements for a site visit/inspection
– Understanding your company's needs and objectives
– Power bill and interval data analysis (to be able to precisely project paybacks)
#8 The differences between commercial-sized and residential-sized solar panels.
Because home rooftops have substantially less usable roof space (compared to, for example, a factory), household-sized solar panels are generally '60 cell' panels.
Commercial-sized rooftops often do not have to bother about space as much, hence larger, more potent 72-cell solar panels are used. This also results in decreased installation costs because fewer panels are required collectively.
#9 Inverters in a large-scale commercial solar system.
When it comes to selecting a solar inverter system for a commercial-scale application, there are three alternatives.
1. Micro-inverter (also known as optimizers)
2. Chained-string inverter
3. Big central inverter
In a commercial solar system, the cost is a critical factor. Micro-inverters and typically cost 20% more than regular string inverters, but they provide many safety and performance advantages.
When dealing with commercial solar installations in Australia, it might be difficult to justify an additional $50k expenditure to your business for micro-inverters (for example) when compared with a string inverter system that will practically produce nearly the same power.
String inverters are a more cost-effective choice, however, we prefer to connect residential-sized inverters rather than employing a single massive central inverter.
This preference stems from several factors, including:
1. Few business roofs are suitable for a large single array, whereas numerous smaller inverters provide for design flexibility with varied strings (MPPTs).
2.       Availability. Briefcase-sized inverters are significantly easier to move and install than a central inverter the size of a small room – especially if heavy machinery is required to lift and position it.
3. Continuity. A single malfunction does not bring the entire system to a halt.
Conclusion
Finally, it is up to our solar installer to offer a proposal based on your specific scenario, and it is up to you to decide whether you want a basic system or more intricate work on your roof.
Your solar system is a guaranteed investment that will reduce your electricity bills and offer you a genuine and demonstrable ROI – practically instantly! The solar energy business is constantly evolving. With current advancements in nanotechnology and quantum physics, the future of solar power is promising. Companies that produce their energy using solar boost their perceived "brand value" among their clients, consumers, and colleagues, resulting in a better "corporate brand image."
Our job does not end when the installation is completed. We are also in charge of regular monitoring to guarantee that your system is providing you with a genuine ROI (with our Annual Maintenance Contracts). We provide you with periodic reporting tools that show you how much money your solar panels save you.
We recognize that solar isn't a one-time service. That's why we're here for you today and tomorrow, helping you evaluate every dollar of your commercial solar investment, at Gorunsolar. To know more about commercial solar systems in Brisbane, contact us 1300 856 678