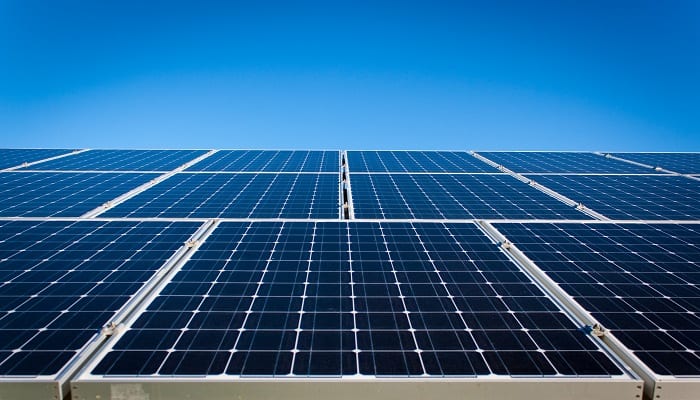 Solar Power System of 10kW
Do you have a lot of energy needs (and even more bills)? Do you live in a larger-than-average home or operate a small business?
If you want to cut your power expenses by 50 to 80 percent, a 10kW solar system could be the solution you've been looking for. A 10kW solar system is as large as most residential dwellings can realistically accommodate and will generate a whopping 50kWh per day on average over the span of each year.
That's enough electricity to run the largest family's appliances, heating, and cooling demands, as well as a swimming pool, spa pool, and all the power-hungry machines in the workshop.
A 10kW solar power system provides genuine ease of mind in knowing that you have all the power you require when you need it. Your family will be warm in the winter and cool in the summer, there will be plenty of hot water for everyone, and it will not harm the environment.
A 10kW system is also well-suited to modest to medium-sized commercial organizations. Whether you manage a busy restaurant or require 3-phase power for a mechanical workshop, you'll have plenty of power.
Join the growing number of individuals who wish to harness the sun's free energy by purchasing a 10kW solar system, and you'll also benefit from some of the world's lowest solar system rates.
When you install a 10kW solar system, some added bonuses you receive are:
The weather is sunny.
Installation costs are low.
Rebates and financial incentives
Each year, Australia receives an average of 2600 hours of sunshine, making it a veritable powerhouse of free electricity. When you consider the low cost of solar system installation and the government's considerable financial incentives, adopting solar makes a lot of sense.
Products for Battery Backup
We feel that Tesla or LG lithium-ion batteries provide exceptional energy efficiency and the best value for money.
Lithium-ion batteries are the energy source of the future. Among their benefits are:
· Increased energy efficiency
· Reduced charge time
· Increased storage capacity
· Consistent output
· Thrive in high-temperature environments
· Lithium batteries are more expensive than previous lead-acid batteries, but the benefits ensure an excellent return on investment.
Installation
A roof space of at least 60m2 is required for the installation of your solar system. Ground mounting is also an option, though very few residential homes have the necessary area.
Most installations are completed in one day or less if there are additional challenges such as excessive roof slope or height. The proper orientation of your solar panels is critical, and we provide adjustable frames that allow us to reach the best angle for solar conversion efficiency.
Solar panels are typically put on the roof, and most installations are completed in a single day.
Making the most of the 10kW solar system:
During the peak daytime hours, you should invest your time in activities that need more energy. This will undoubtedly assist you in maximizing your return on investment. As a result, you should continue to plan your daily habits and activities around them.
The activity should be organized and executed with the understanding that the highest priority should be given to those items in your home that have the power to draw the greatest quantity of energy. The first and most important thing to plan would be to prioritize your home's solar energy sources.
Knowing whether or not your roof is suitable for a solar system:
Before investing in a solar system for your property, you must first determine how much heat your roof receives as well as the design of your roof in order to make the greatest investment for your property. You must take into account all aspects, including geographical and environmental factors.
You must ensure that nothing is blocking the sunshine. Various components such as trees, roof dormers, and other neighboring buildings are frequently used as a stumbling hurdle to your new energy source So, before building a 10kW solar system, make a list of all the obstacles.
The orientation of your roof is also important in receiving the proper amount of sunshine on your panels. If your roof has a southern inclination, the solar system will thrive on it. This occurs as the sun moves from east to west across the sky, following the pattern it follows in the southern hemisphere.
This must be kept in mind before evaluating the installation of solar panels, and you must seize the highest amount of direct sun rays, which can be best done when your roof is completed by appropriately tilted panels. These considerations must be kept in mind throughout the installation.
You can get in touch with Gorunsolar to have a solar system installed on your property.
We can assist you with installing a solar system in Brisbane, Queensland, the Gold Coast, Rockhampton, and other parts of Australia. We will assist you in finalizing your plans and will inform you whether your roof is suitable for the installation of a 10kW solar system.
Installing a 10kW solar system will provide you with a plethora of advantages. You will immediately see a significant reduction in your electricity cost. The following are the advantages of a 10kW solar system:
You may be able to save $300 per month on your electricity bill, but this figure will vary depending on your usage and exposure to the sun.
Installing solar panels on your property is a great way to increase the value of your property. Because of the new solar system installed, the value of your property will skyrocket when you want to sell it. There is an average gain of roughly $15,000 to $20,000 over the regular price of the traditionally powered property.
According to the estimates, if you pay $20,000 to construct a 10kW solar system and then sell the property after a year, you will see a profit even when you combine this $15,000 with your yearly savings.
This is true for both residential and commercial property.
Industrialists are adopting this amazing technology, which will benefit their businesses as well as the environment. By converting to a solar system, firms will generate no dangerous gases, contributing to a safe and clean environment. Despite the fact that they will save a lot of money by switching to solar panels, their firm will gain recognition.
The government has proposed tax credits and rebates for Brisbane residents who install 10 kW solar systems. These credits and benefits differ by location, so before making a purchase, find out what incentives are available in your area.
Be diligent in obtaining the correct merchandise, as well as labor and installation receipts for everything.
Always keep your documentation with you, even after you've applied for the credits. As these may present further opportunities at the end of the tax session. The credit percentage is decreasing year by year and may not be available after 2021.
People in Australia are abandoning traditional energy sources in favor of solar panels. According to the calculations, almost 30% of the residences in Australia are covered with solar panels, and this percentage may double in the coming year as this concept is widely adopted by citizens throughout Australia and spending rapidly.
So, after hearing about all of the perks and benefits that come with installing a 10 kW solar system in Brisbane, you may have been compelled to upgrade to a new solar system.
Because solar energy is a renewable source of energy, your new solar system's primary focus will be to safeguard the environment and save Mother Earth. This investment will undoubtedly benefit both you and the environment. It will assist you in reducing the production of dangerous greenhouse gases such as carbon, which is the primary contributor to global warming, as well as saving money. So, whenever you want, Gorunsolar can help you install a 10kW solar system at your home.
We will advise you on how and which solar system will be best for your property, and we will make sure you grasp all of the advantages of a 10kW solar system.
When you hire Gorunsolar Group to design and install your solar system, you are getting the best in the Australian market. We provide the panels, inverters, backup batteries, and expert advice you need to drastically reduce your electricity expenditures.
Frequently asked questions:
What is the price of a 10kW solar system?
A high-quality 10kW solar system ranges in price from $9,900 to $14,300.
When deciding on the best system for you, keep in mind that pricing is a good indicator of quality. You don't have to spend the most money to get the best results, but staying within this price range assures you're getting quality you can count on – now and in the future.
In terms of the future, you should think about warranty support. Things can – and do – go wrong, therefore a warranty, as well as Australian-based assistance, are required. Every 10kW solar system we sell includes both, ensuring that your investment is protected for years to come.
How much money can I save?
If you use the majority, if not all, of the solar power generated by your 10kW solar system, you will save $400 to $700 per bill cycle. Use the majority of your power during daytime hours and when demand and electricity prices are high, and your savings will grow even more.
What is the typical payback period?
A 10kW solar system has an average payback period of 3 to 5 years. However, you will begin saving as soon as your system begins to generate electricity, so the true savings begin with the installation.
What size is it?
A 10kW solar system is made up of between 31 and 40 solar panels. Because they are 1.6m x 1m in size, you will need a lot of roof space to sustain them — 50 to 65 square meters to be precise.
How much power can a 10kW solar system produce?
A well-functioning, efficient 10kW solar system yields approximately 44 units per day.
However, the amount of power generated by your 10kW system is determined by two important factors: your geographic location and the orientation and angle of your solar panel array. You'll create more power in the summer than in the winter, and sunnier areas produce better results than cloudier ones.
Regardless of where you are, our installation specialists will ensure that your system is properly positioned for the greatest potential outcomes. This, in addition to choosing the greatest quality system and components you can afford, will ensure you get the maximum potential return on your solar investment.
Do I Require a Battery Backup?
According to how you use electricity and the degree of solar feed-in tariffs available to you, a battery backup can provide significant benefits.
Batteries for a 10kW solar unit can cost up to $14,000, but the payback time for our systems is typically about 4 years, so battery backup can be an excellent investment.
What kind of household is it best suited for?
A 10kW solar system is a significant expenditure for a large household. If you consume roughly 20kW of energy per day (mainly during the day), have reverse cycle air conditioning, a large pool, home automation, and an electrical budget of $800 or more, a 10kW system could be the ideal solution to your energy needs.
What should I do now that I've decided to go solar?
The first step is to look into your choices. We have some of the greatest 10kW solar systems in the globe for a variety of budgets, and we can help you select the ideal one for your needs. To get started, call us at (number) or request a call back (link) immediately.